Curtis Phillips
Born Oct 12, 1793
Died May 25th 1877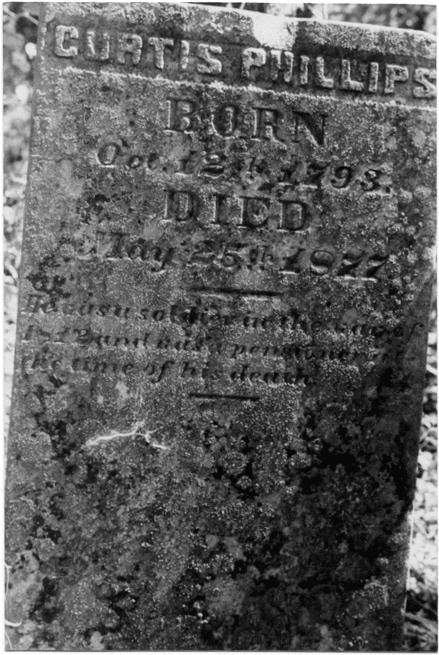 Curtis Phillips was the son of Ferebee Phillips and 1) Joseph Phillips according to the Rev War Pension Application Ferebee submitted and was approved 2) Shadrack Phillips according to the family Bible. No doubt Joseph was the father and Shadrack may have been a stepfather/uncle.
Curtis Phillips requested in his Will, located at the Lenoir County Courthouse, to be buried in the Stephen C. Phillips Cemetery on the Stephen C. Phillips farm. Stephen C. Phillips inherited this farm from his father, William Phillips, who most likely inherited it from his father, Thomas. Thomas inherited much of the land in this area from his father John Phillips by Will. The land is on Eagle Swamp. The cemetery is located off the road going from Grifton to Hugo and was visited in February 2000 by Jim Gattis and Martha Mewborn Marble. There are only three stones left in the cemetery but there are at least 25 gravesites and maybe more. This stone is important because it pinpoints the exact location of the early Phillips land. The farm is owned today by descendants of Stephen C. Phillips.
Thanks to Jack Gilbert who provided the picture.
Surname Projects M-Z